1.8ml tubes of Sapphyre nic 20%
- Concentrated nic solution made to convert 0mg e-liquid.
 -Just add Sapphyre nic to any 0mg eliquid.
 -Simple and easy to use.
 -Create your own nic level on the spot.
 -The 10% and 20% 0.9ml, the 20% and 40% 1.8ml concentrations make it east to add nicotine to any size bottle.
Nicotine chart below.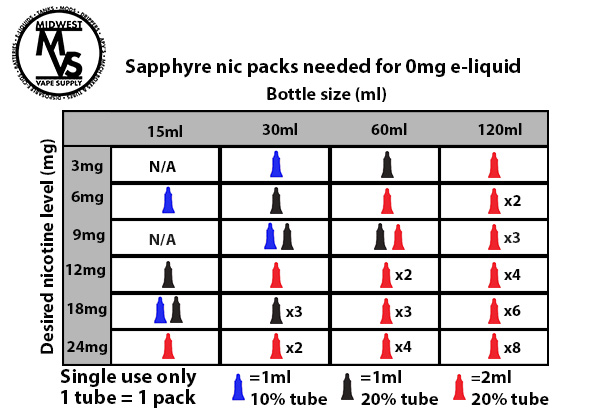 California Prop 65 Warning: This product contains chemicals known to the State of California to cause cancer, birth defects, or other reproductive harm.
These products are intended for use by persons 21 or older, and not by children, women who are pregnant or breastfeeding, or persons with or at risk of heart disease, high blood pressure, diabetes, or taking medicine for depression or asthma. If you have a demonstrated allergy or sensitivity to nicotine or any combination of inhalants, consult your physician before using this product. This product is sold purely for recreational purposes – it is not a smoking cessation product and has not been tested as such.